What is Step and Repeat backdrop?
Step and Repeat backdrop is a publicity backdrop used primarily for event photography, printed with a repeating pattern such that brand logos or emblems are visible in photographs of the individuals standing in front of it ( Wikipedia).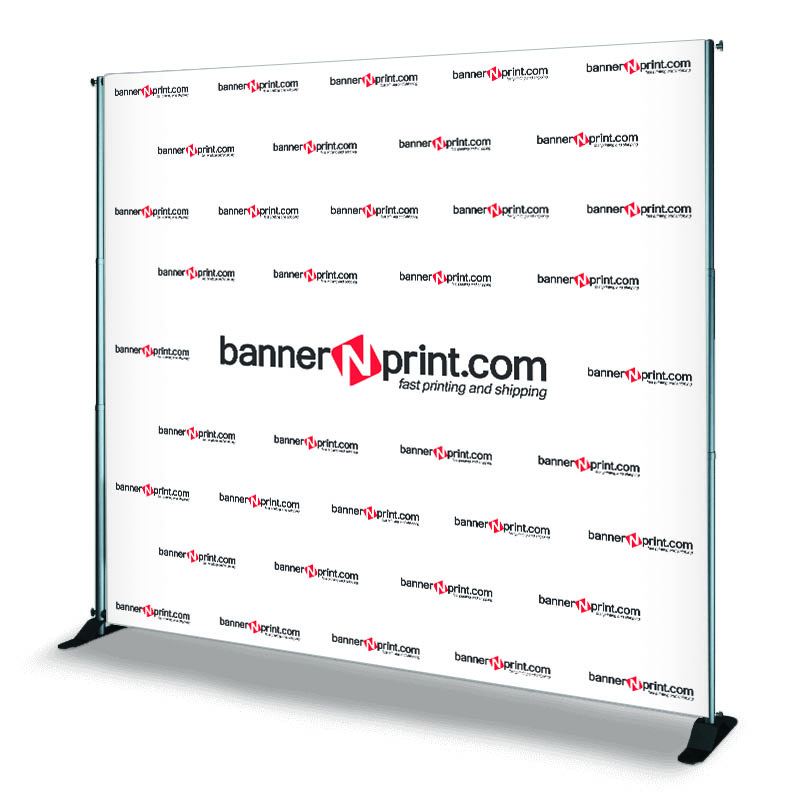 Essentially, they are banners with small repeating logos that you typically see behind celebrities at events such as red-carpet events, award shows and galas. The celebrity "steps" onto the red carpet, take pictures, with the next person "repeating" the process. Another reason they are called "Step and Repeat" banners are due to the small repeating logos, usually those from sponsors, on the backdrop and of the banner.
Step and repeat banners are an indispensable tool at fashion shows and other important occasions. Virtually any event can benefit from these marketing backdrops. Some businesses utilize step and repeat banners to advertise their products or services at a low cost. Step and repeat banners are completely recyclable and are designed for multiple uses, meaning that they offer businesses a lot more bang for their buck. Manufacturers and brands can prominently display their company logos through the use of Step and repeat backgrounds. As a result, brand recognition increases and valuable exposure can be easily attained. Photographs of stars, influencers, and other influential individuals posing in front of your banner are incredible forms of social proof that can be harnessed into media attention. Whether your brand ends up showing up on traditional media outlets such as the news or modern media outlets such as social media, step and repeat banners provide the perfect amount of exposure for your company to attract new consumers.
One of the most important features of Step and repeat banners is that they are incredibly easy to set up with the help of a dedicated step and repeat banner stand. A single person can easily step up these banners without any major hassle. The structure of the hardware frame consists of sliding telescopic poles, making them easy to move without adding bulk. This means they are also highly portable and can be stored easily. The stand is fully adjustable, meaning that it is easy to set the height of the banner according to user choice and requirements.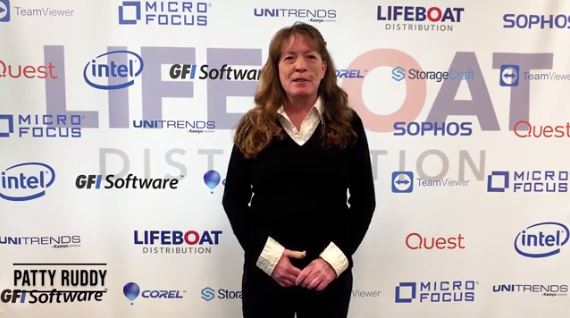 Lifeboat Distribution
Why Use Step and Repeat?
The step and repeat banner is used to increase brand awareness at a low cost with less effort by displaying your logos in a repeated pattern. This creates a great and fun photo backdrop for your guests. The photos taken in front of the backdrop will be spread through different platforms such as films, television, magazines, search engines, and social media, making it a great form of marketing. You can use these banners to host your sponsors as well as advertise your own business at your event.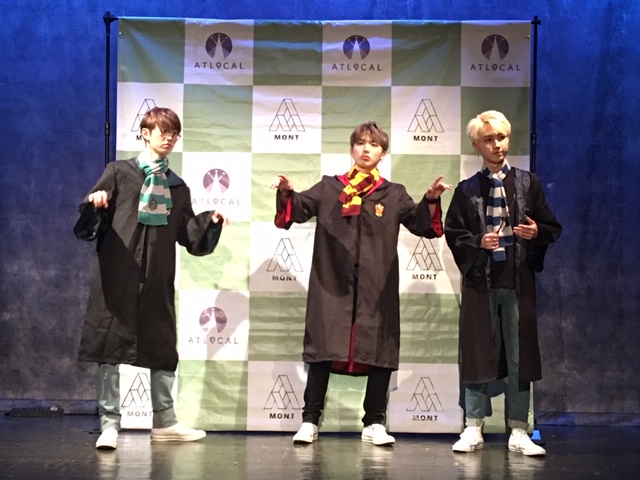 Besides business events, the step and repeat banners are ideal for weddings, birthday parties, graduations and more! These banners would be the extra 'spice' to your event/party as everyone would love to have their photo taken in front of one.
Benefits of Step and repeat
Step and repeat banners can provide you and your brand with many benefits. First, they are a great way to generate awareness for your brand. Many brands utilize Step and repeat banners for marketing and branding purposes. At events, people take photos in front of the steps and repeat banners and post them on their social media pages so that other people can see them. Social media is a powerful tool because it is the media platform of the future. You can reach millions of people online through the use of this new medium. In captured images taken in front of step and repeat banners, brand logos are prominently visible. This means that your brand will be seen by every single person who views the photo online. This is a very powerful concept. Here are some benefits of step and repeat banners.
A step-and-repeat banner gives your visitors the impression that they are the center of attention at your function. This is vital to ensuring they have a great time and associate your business with quality and a good time.
Step and repeat banners are available in a wide range of shapes and sizes to accommodate virtually any advertising budget.
Step and repeat banners are reusable, meaning they can continue to benefit your brand from a single investment.
Step and repeat banners are easy to store and quick to set up.
Your company colleagues or clients will be impressed by your step and repeat banner.
Step and repeat banners exude a professional appearance and allow your company to stand out.
Many people love to take photographs in front of steps and repeat banners and post them online as they are generally associated with celebrity events. This means your company′s logo will generate valuable attention and exposure online.
Uses of Step and repeat
People use Step and repeat banners for a wide range of different purposes. They are easy to maintain and are perfect for many use cases.
Use it as a background for pictures
You may have seen Step and repeat banners on Twitter and Facebook profile images. People love to use a nice and stylish background in their profile pictures. These images are undoubtedly a great advertising tool for investors for small enterprises. You can help create the impression that your brand is a success. Photos taken in front of a step and repeat banner continue to work for you months and years after they are taken.
Enhance Your Look
A step and repeat background is a fantastic method to help your business stand out at conferences and trade events. Your display will appear extremely respectable with an impressive background. Step and repeat banners are available in different sizes, and you can print anything you want on them according to your event. At bannerNprint, it is our goal to help you create the ultimate event marketing. Our step and repeat banners can help you do that. Paired with our incredible step and repeat hardware, you can have your backdrops displayed anywhere you need with ease and portability.
What to Consider When Buying Step and Repeat
Size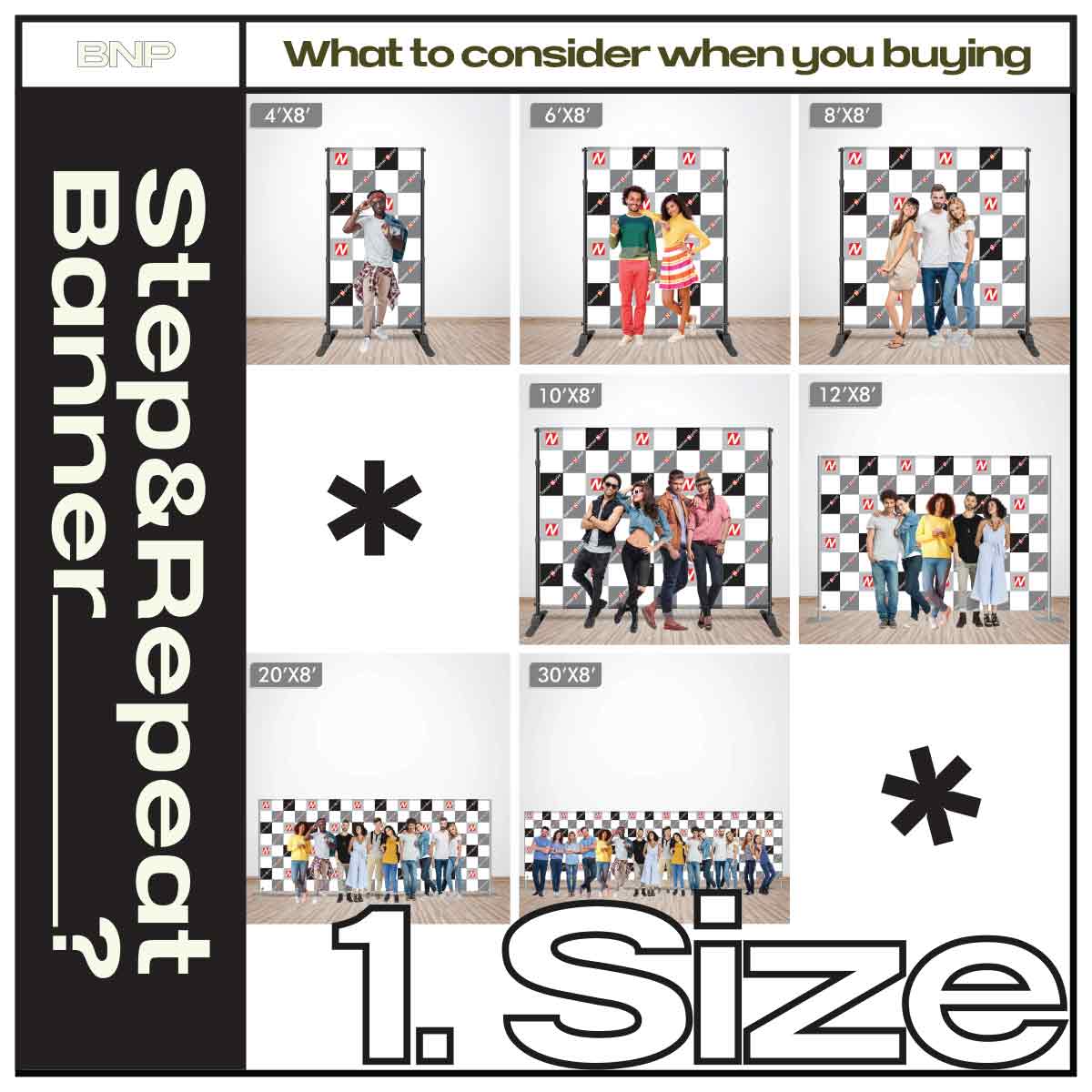 The most popular sizes for the step and repeat are 8' x 8' and 10' x 8'. The 8' x 8' backdrop is ideal for 2 - 4 people and the 10' x 8' is perfect for 4 - 6 people. We offer sizes from 4' x 8' to 20' x 8' so you can choose the size that fits for your event!
The most typical uses for step and repeat banners are at conferences, trade exhibitions, and ceremonies. Retractable step and repeat banners are simple to put together and install, and they allow you to have many banners displayed across a single space. In addition, the logos of the brands who are organizing the event or the companies supporting the event are generally included in the visuals of the step and repeat banner.
Step and repeat banners have the potential to act as long-term advertising channels for a business because people prefer to post images of themselves at events on their social media as opposed to promoting your business by sharing your content. Everyone likes to show off what they are doing and give the impression that they lead exciting lives. People and companies love our step and repeating banners because they are excellent to take photos in front of. Any photos taken in front of our step and repeat banners act as an indirect advertising campaign for your business because your logo will be conveniently located in the background of the photo. Social proof is a powerful form of marketing and step and repeat banners combined with social media help accentuate this form of advertising. The main reason step and repeat banners are an incredible marketing tool is that they come in a wide range of different sizes and you can print anything you like on them. This article will go over the different uses of the various sizes of step and repeat banners we carry here at bannerNprint.
4' X 8' STEP AND REPEAT BANNER
This size of background is roughly the size of a massive door, measuring 4 by 8. It is ideal for smaller gatherings and conferences, as well as venues with a small capacity. Each photograph taken in front of 4 feet by 8 feet step and repeat banner can easily accommodate one or two people. This backdrop is more reasonable due to its smaller size, yet it is still high-quality and entirely customizable with your logo, designs, and color combinations.
6′ X 8′ STEP AND REPEAT BANNER
Step-and-repeat banners are a powerful advertising item that is ideal for red carpet and corporate events. This 6′ by 8′ Adjustable Step and Repeat Banner is perfect for displaying large event backgrounds. The telescoping legs on the adjustable stand are built to attain various elevations. No matter the size or layout of your venue, this banner can accommodate and help with flash photography.
Our step and repeat banners are relatively simple to assemble and disassemble. The adjustable legs allow you to set up your frame at different heights quickly and efficiently. Even for your everyday get-togethers with friends or family, you can use these steps and repeat banners to take professional photos with your friends. The 6 by 8 size is a much larger size, meaning three to four people can easily take pictures together at one time.
8′ X 8′ STEP AND REPEAT BANNER
The 8 feet by 8 feet step and repeat banner is wide enough for a 4-person photograph and is perfect for concerts, PR events, award ceremonies, birthday celebrations, or wherever else you need to add a touch of red-carpet elegance. This eye-catching banner is constructed of seamless vinyl sheets crafted meticulously to avoid wrinkles or creases. If you want to have the perfect backdrop for your large parties or events, you can easily do so with this size of step and repeat banner.
20′ X 8′ STEP AND REPEAT BANNER
The 20 by 8 step and repeat banner is large enough for anywhere between ten to twelve people. For significant events such as seminars, birthday parties or wedding ceremonies, these step and repeat banners are a perfect option. However, the 20 by 8 step and repeat banner is most commonly displayed at media events or movie premiers. This is due to the size and scope of the events and the amount of people who need to be photographed at once.
We hope that you can now easily understand the different sizes of step and repeat banners and are able to determine which is best for your personal or business needs. You can also fully customize the dimensions of these steps and repeat banners according to your choice. At bannerNprint, it is our mission to make sure you are able to find the right banner at an incredible price. Check out our selection of step and repeat banners today!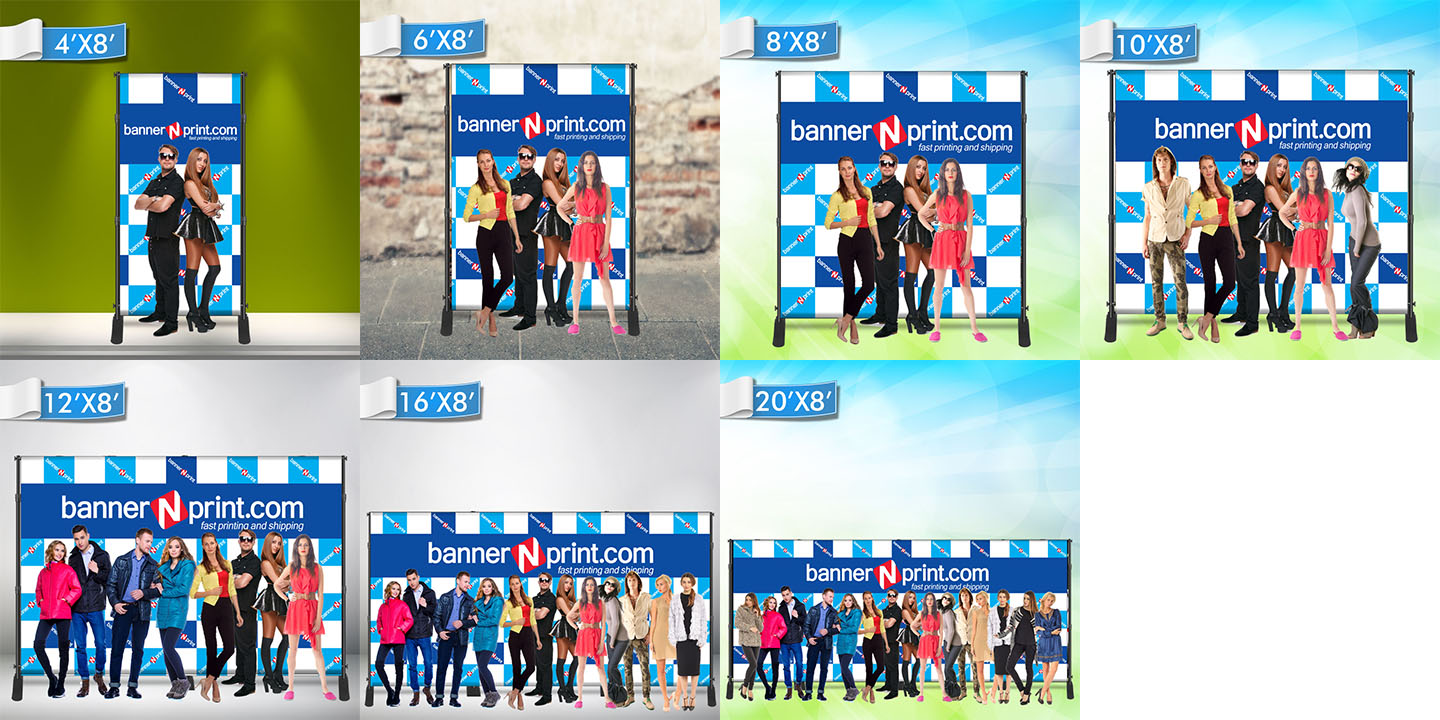 Turnaround Time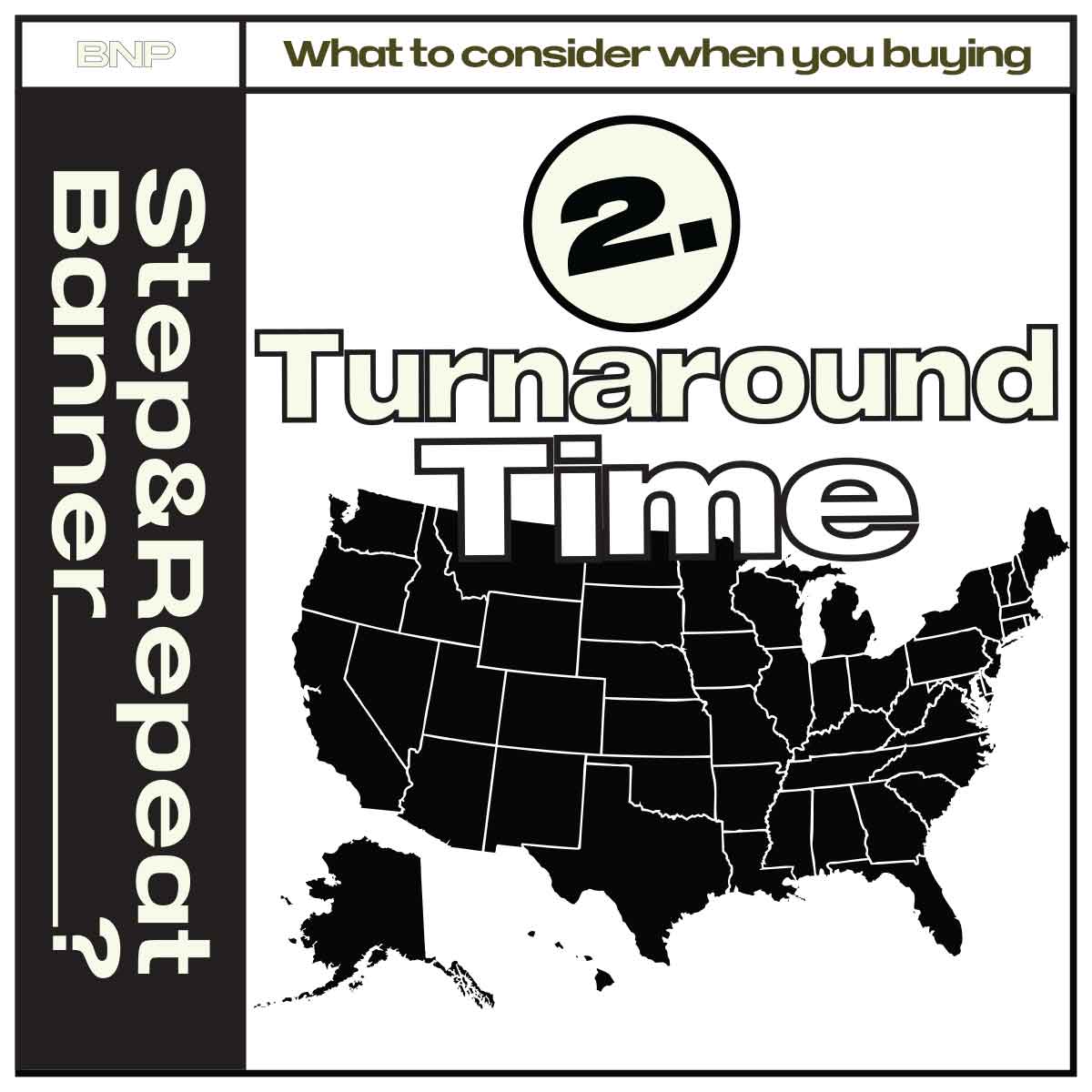 bannerNprint.com provides in-house printing for all products. Orders typically ship out within one business day if placed and processed by 2 PM est. The turnaround time depends on the shipping location. Depends on where you are located, you will be able to receive the banner in 1 business day to usually at most 5 business days. We do provide other shipping methods such as 2 days or overnight so don't worry if you are in a hurry!
Type of the Material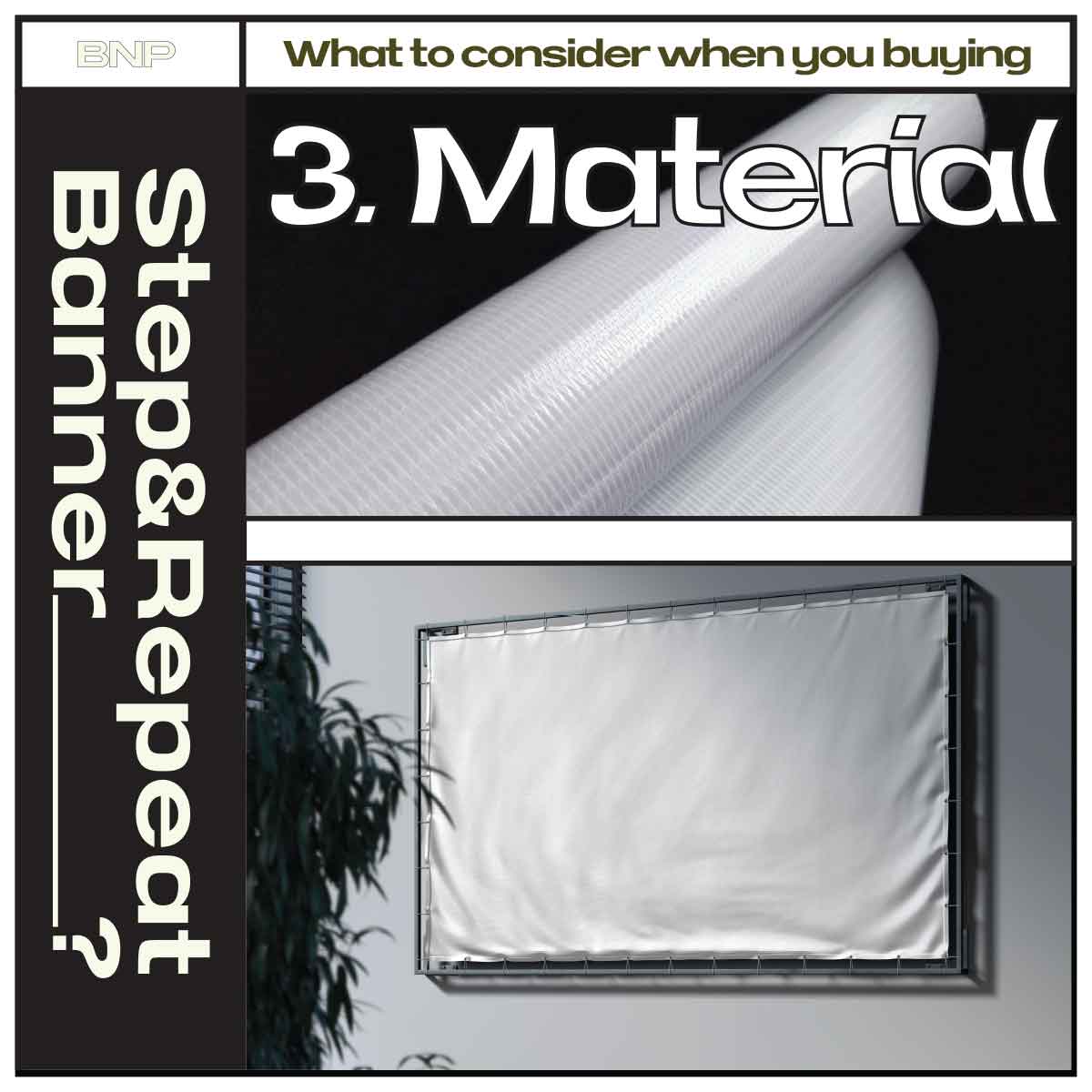 We normally use vinyl banner (14 oz. high tenacity polyester vinyl) which is perfect for outdoor and indoor use! The quality of the material can withstand weather and is easy-to-use for everyone. You can also upgrade the banner to fabric banner (9 oz. wrinkle-free fabric) for 8' x 8' and 10' x 8' step and repeat banners so if you want wrinkle free, scratch resistant, and washable banner, this is probably the one you want to get!